Three Reasons Why Japan Should Incorporate MMM into Marketing in the Cookie-Less Era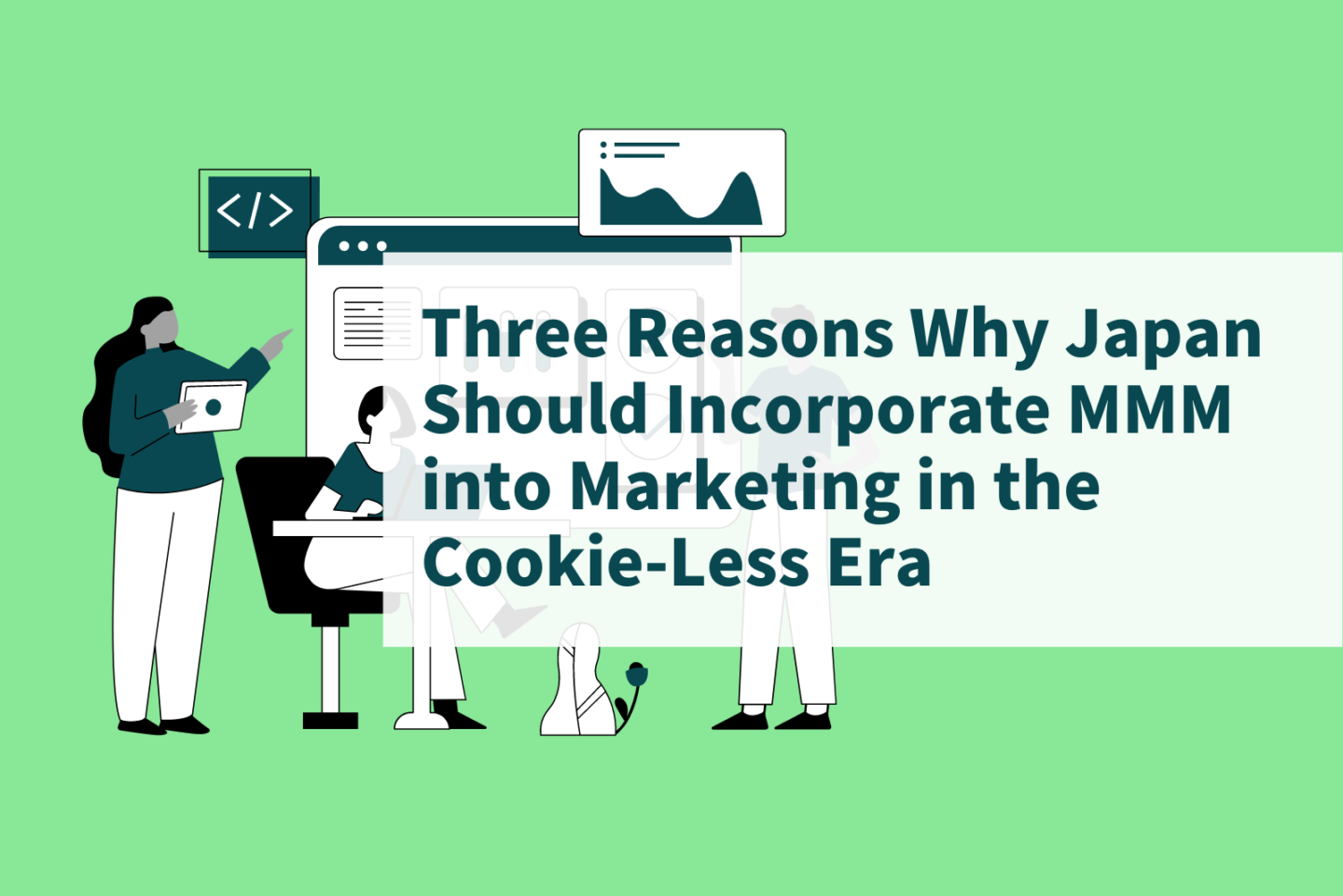 In the United States, the leading country for marketing practices, about 80% of marketers are aware of the marketing analysis method "Marketing Mix Modeling (MMM)," and nearly half of companies are practicing (*1) it. While the adaptation among the Japanese companies is still at 10% (*2), it is the most appropriate analysis method for today's marketing environment for various reasons.
In this article, we will take a look at the differences between MTA and MMM. The former is still considered mainstream in Japan, but MMM is optimal for marketing of the next generation, and we will explore why.
(*1) Nielsen Media, Facebook, and Google Consortium Release Latest Report "How to Improve Advertising Performance with Marketing Mix Modeling" (Nielsen Media Japan GK press release) https://prtimes.jp/main/html/rd/p/000000004.000070691.html
(*2) Survey of 212 corporate advertising managers on how they measure the effectiveness of advertising, 2020 Edition (XICA Co., Ltd. press release) https://www.atpress.ne.jp/news/213842
MMM is a performance measurement method suited for the modern marketing environment
Today's marketers must deploy marketing communications across numerous media and channels. To get the most out of this increasingly complex environment, it is necessary to accurately understand each measure's effectiveness and take actions to maximize the synergistic effects among measures.
Marketing Mix Modeling (MMM) was born more than 70 years ago in the United States, in the 1950s. It was developed to understand the impact that offline marketing efforts, including TV commercials, radio ads, OOH ads, and newspaper ads, would have on sales.
Modern MMM has evolved from there to become a performance measurement method that can quantify the impact that various marketing measures, both online and offline, have on results. It is also called "integrated attribution analysis (*3)" because it analyzes all marketing initiatives in an integrated manner.
(*3) Attribution analysis: An analysis that quantitatively measures the contribution of each marketing measure to results (sales).
There are three reasons why this MMM is appropriate for today's marketing environment.
First, it can quantify both the "impact on results (direct effect)" and "impact on other marketing measures (indirect effect)" for each marketing effort.
Second, it is possible to analyze external factors over which the company has no control.
External factors include market conditions (e.g., competitors' advertising and sales policies), seasonality, weather, and any other factors that may affect the effectiveness of marketing measures and business performance.
Even if marketing measures are perfect, sales will decrease if competitors implement drastic price cuts, and the number of visitors will decrease if a typhoon hits. In recent years, COVID-19 had a significant impact on sales regardless of the success or failure of marketing measures.
Conversely, in some cases, external factors can improve sales even if the company's own marketing initiatives were not successful.
Third, it is possible to distinguish the results of the med-to-long term initiatives, such as brand equity (the value of a brand, which increases the value of a product or service), which can last from a few months to several years, from the results of short-term marketing measures.
Although not considered a direct approach, building a brand strength is the foundation for marketing results. How well are your company and services known? How well are you and your services received? And to what extent do these factors influence results? By understanding these factors, the required measures will change.
In this way, MMM helps you comprehensively understand all factors such as the synergistic effects among measures, the influence of external factors, and brand value, which have been considered difficult to apprehend, and quantifies the "true performance of each marketing measure."
Even today, where a mix of marketing initiatives has become more diverse and complex, MMM provides hints for maximizing marketing results because the approach helps you optimize advertising budgets holistically, not individually.
The utilization rate of MMM by Japanese companies is approximately 10%
In the United States, the birthplace of MMM and a marketing leader, MMM is widely used by companies of all sizes and industries. On the other hand, advanced analysis such as MMM is still not commonly used in Japan.
This was also made evident in XICA's April 2020 survey, "Survey of 212 Corporate Advertising Managers on Advertising Performance Measurement Methods, 2020 Edition." (Japanese)
We asked advertising managers about the analysis methods they currently use and would like to use in the future. Only 11.2% of companies responded that they currently use "technology, including quantifying advertising effectiveness using statistical models, AI, and machine learning, and the simulation of optimal budget allocation." Comparison to past numbers, 4.9% of respondents in 2018 and 10.7% in 2019, indicate an increasing trend. However, not many companies in Japan have adopted this technology.
That said, 49.7% of companies, or about half, responded that they would like to use such technology in the future. The need for advanced analytical methods is on the rise.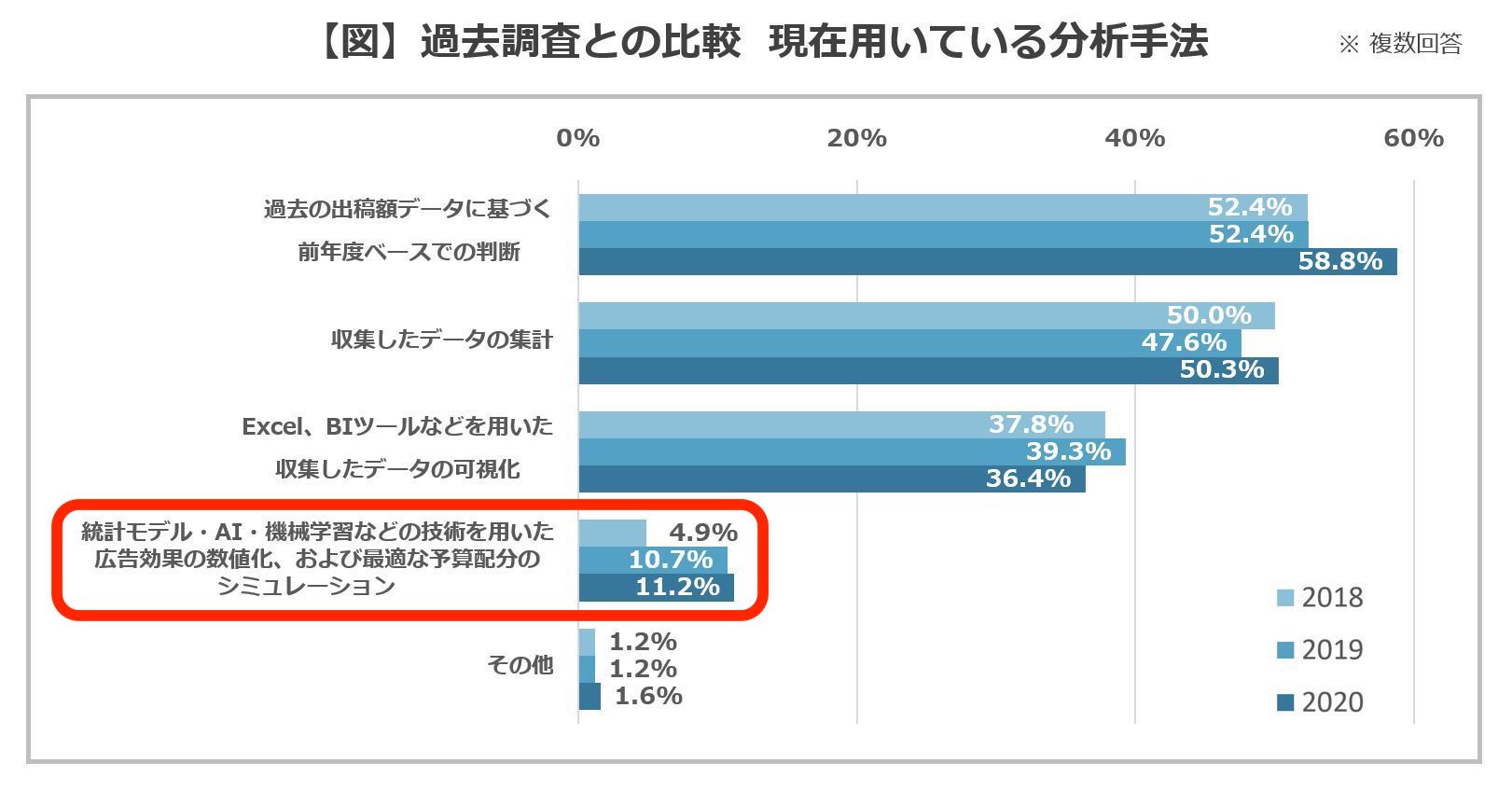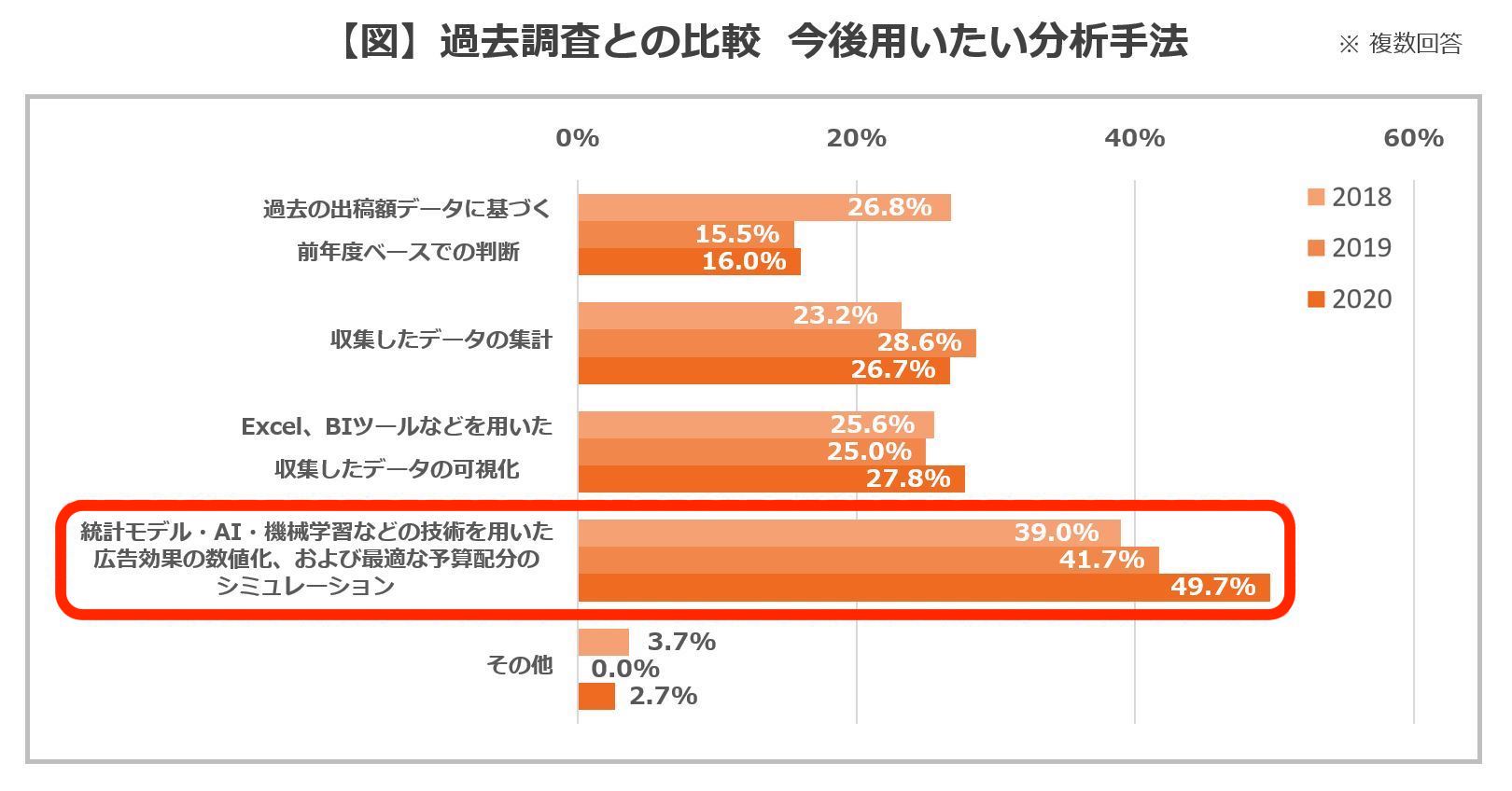 The survey also looked at how cross-disciplinary analysis, which integrates online and offline measures and external factors, is practiced.
When asked about their current approach, the majority (44.3%) responded with "Separate analysis of internet and offline advertising by domain." It should be noted that also the majority (36.8%) answered "Integrated analysis including external influencing factors in addition to internet and offline advertising" as something they would like to work on in the future.
These results indicate that although Japanese companies have a high need for advanced, cross-disciplinary analysis methods such as MMM, they are not yet able to put them into practice.
MTA is the norm in Japan, while MMM is more prevalent in the rest of the world
In Japan, where only about 10% of companies utilize MMM, the current mainstream analysis method is "Multi-Touch Attribution (MTA)."
MTA measures the impact of digital advertising on sales and other business outcomes based on cookies and other personal behavioral log data.
MTA and MMM are the same in that they both analyze historical data to calculate the sales contribution and ROI of measures to help optimize advertising budgets. But they use different data as the basis for analysis. For example, MTA is based on contact data for each touchpoint, while MMM considers the chronological linkage between the events or factors that may influence sales.
MTA can provide highly accurate analysis for e-commerce companies where marketing and sales are solely completed online. On the other hand, it is difficult for companies that combine online and offline initiatives to obtain data on individual behavior in offline initiatives, making detailed analysis based on MTA alone tricky.
So, which is the better analysis method for modern marketing; MTA or MMM?
XICA's research on the history and latest trends of marketing performance measurement in the US market reveals that an integrated analysis approach combining MTA and MMM has risen as a key differentiator for brands since 2016 (*4).
In addition, Analytic Partners, a US provider of marketing performance measurement and optimization services and consulting that integrates MMM and MTA, stated in November 2019, "Of the optimization insights we provide our clients, 80% of the incremental value comes from MMM and MTA only contribute to the remaining 20%" (*5).
MMM, which reveals the relationship between measures and how they affect each other chronologically, is more likely to provide insights suited for overall marketing optimization than MTA, which excels in measuring the effectiveness of discreet touchpoints.
In the US, more companies have established in-house teams dedicated to MMM practices, and the number of businesses providing MMM tools is increasing. MMM has been recognized as an effective analysis method and is rapidly spreading.
(*4) See the following URL
• Market Guide for Attribution and Marketing Mix Modeling (Gartner, Inc.) https://www.gartner.com/en/documents/3463318/market-guide-for-attribution-and-marketing-mix-modeling
• The Forrester Wave™: Marketing Measurement And Optimization Solutions, Q1 2020 (Forrester) https://www.forrester.com/report/The-Forrester-Wave-Marketing-Measurement-And-Optimization-Solutions-Q1-2020/RES145975
• The Forrester Wave: Marketing Measurement and Optimization Solutions, 2016 (Forrester) (Forrester) https://www.forrester.com/blogs/16-10-12-the_forrester_wave_marketing_measurement_and_optimization_solutions_2016/
(*5) Disrupting MTA: Introducing Commercial Mix Modeling (Analytic Partners) (Partners) https://analyticpartners.com/news-blog/2019/11/disrupt-mta-commercial-mix/
Although MMM adoption has been slow in Japan, several factors will accelerate it. The most significant is the rapid tides toward tighter data regulation and privacy protection seen globally.
The trend started with the European Union's "General Data Protection Regulation" (GDPR, effective 2018) and California's "California Consumer Privacy Act" (CCPA, effective 2020). It was followed by Apple tightening access to advertising identifiers (IDFA) announced in conjunction with the release of iOS 14.5 beta in the spring of 2021 and restrictions on the third-party cookies in Google Chrome and other web browsers. This all shows that data privacy protection has been rising in recent years.
It means that the amount, type, and granularity of data about customers collected online and the applications of those data will be severely restricted. As a result, it is likely to become technically more challenging to ensure the accuracy of MTA, whose analysis relies on the behavioral data of each customer.
MMM does not conduct real-time analysis based on personal behavioral data using cookies or other means. Instead, it uses data such as the advertisement placement (GRP for TV ads, impressions & clicks for online ads, etc.), costs, and results (number of visitors, sales, and conversions such as number of applications and contracts). It also considers external factors such as market conditions, seasonality, and weather.
As such, MMM is a method that enables accurate and sustainable measurement of marketing activities even in the cookie-less era.
Three ways to implement MMM in Japan
The potential needs for MMM are already very high among Japanese companies, and demand for MMM is expected to grow further in the future. There are three ways to implement MMM, as listed below, with the advantages and disadvantages of each method.
1. Hiring a research or consulting firm to perform the analysis
• Advantages: Professional data scientists can carefully coordinate data analysis / Relatively large number of companies offer this service, so there are many services to choose from
• Disadvantages: Expensive / Takes longer (3-6 months) to obtain analysis results
2. Hiring your own data scientist in-house
• Advantage: The scientist has a hands-on understanding of your company's specific challenges, and therefore it is easier to draw actionable insights.
• Disadvantages: Recruiting a data scientist is very difficult and often requires a lot of cost before hiring / Not many data scientists are in the job market
3. Utilize tools capable of MMM analysis
• Advantages: Analysis can be done in a short time even without specialized knowledge / Less expensive than hiring a research or consulting firm
• Disadvantage: Very few MMM analysis tools are out in the Japanese market, so there are limited options
The table below compares these methods in four key areas: ease of getting actionable insights (considering the context to arrive at an accurate hypothesis), the time required for analysis, cost of analysis, and the number of options.
For a business, data analysis is essential in correctly evaluating how much each measure contributes to sales and how they affect each other. It is a critical element of modern marketing, and marketing in the generations to come.
To get the most out of limited resources and maximize results with optimal spending, it is essential to select or combine performance measurement methods that match the characteristics of your business and marketing strategy.
We encourage you to review and discuss the future of your company's marketing performance measurement while keeping an eye on social trends such as data protection and privacy regulations.
Tags
#Cookie #MMM #DataScience #Privacy
Recommended for you